Who makes the music?
Everyone can avail of music opportunities at Drake Music NI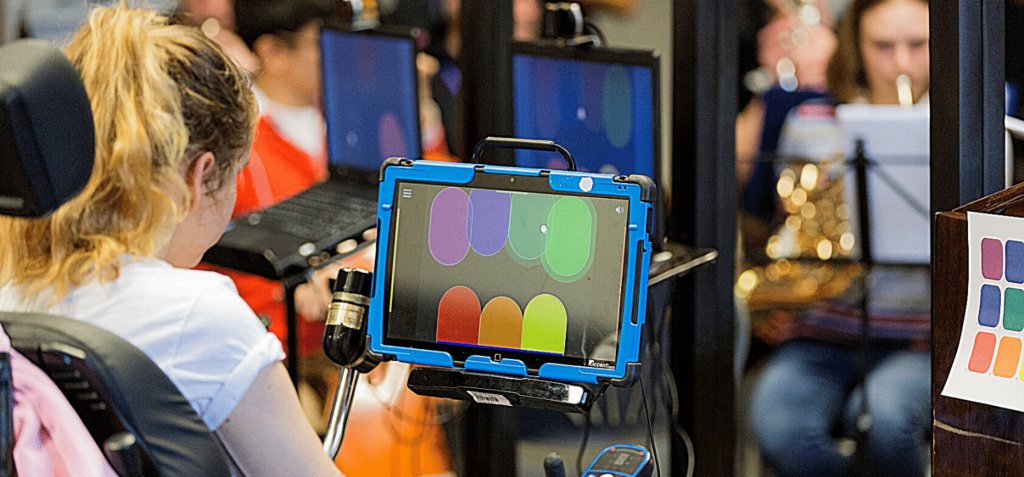 Making music when you are a member of a Drake Music NI Workshop means alot of different things to different people. Music is for everyone to enjoy. Young and older alike. Drake Music NI exists to offer opportunities in independent composing and performance of music using specially adapted music technology. Regardless of abilities, we have an instrument for you. Whether you have a physically disability or learning difficulty we can provide you with the tools you require to maintain autonomy. Have a read at some of the real life examples below of attendees at our workshops;
You may have a physical disability, and attend in order to be able to control your own studio environment using Drake specialist switching devices that you cannot access anywhere else, and they are here every week when you arrive at one of our workspaces.
You may have a learning disability, and really enjoy the teaching approach that the Drake music associate uses when they take your music session in school on a Monday morning
You may be a wheelchair user, but can still get a pedal effect on your guitar on a Saturday morning with 3 of your mates, all jamming along with you in the Ballycastle band you have set up with the Drake music associate, and you are loving the sound
You may be visually impaired, and get to make that jazz improvisation sound great in the Banbridge workshop as a result of the access software that is set on top of the sequencing package for you
You may be hearing impaired, and for one of the first times in your life you get the chance to actually feel your own music as you create it on a Thursday evening in the Belfast studio
You may be physically disabled, but determined to improve the way that you control your computer, and get to record that sample that you have talked about at 'tech for ages, and you love the way the research guys
at Drake are as committed and passionate as you are to get the controller just right for your movements
You may be starting to exhibit signs of dementia, but are able to relax and smile at the memories of home that the music you are creating with the Drake associate in your residential home provokes
you may have dyspraxia, and for the first time are able to create a sound of your own, that you are proud of, among friends, in your workshop local to your home.